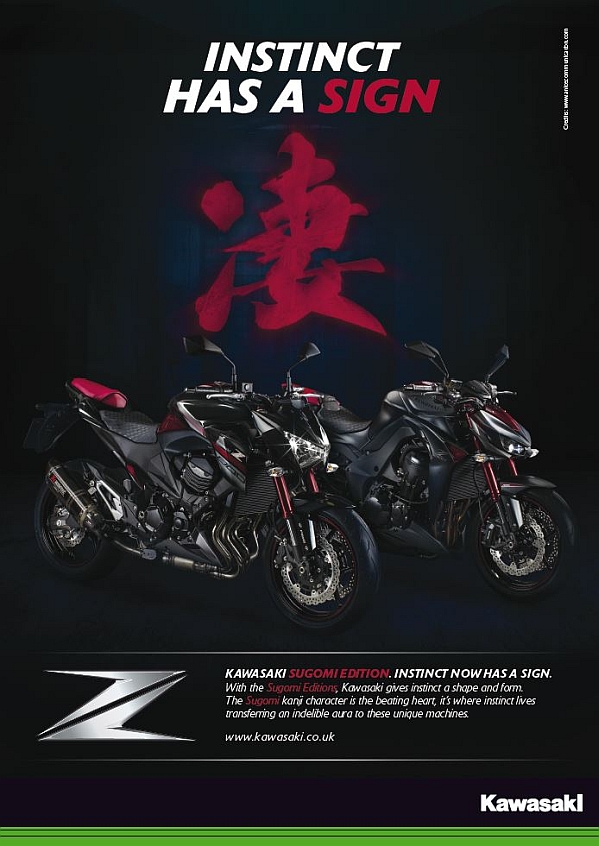 Anice has just executed a campaign for Kawasaki Motors Europe focused on the launch of two new models in the successful Kawasaki Z range of "naked" machines.
The new Z800 and Z1000 Sugomi Editions are portrayed in the digital work created by Anicecommunication with the "dynamic and energetic creativity" required by the brief highlighting the instinctive and passionate character of the two special editions.
Kawasaki's unique "Sugomi" design approach combines both styling and engineering in one balanced philosophy with neither taking precedence. In the case of the two new Sugomi Editions the look and feel created embodies the precise moment, full of power and control, that precedes the attack on prey by predator.
This is the feeling that dictated the winning claim "Instinct Has A Sign", the same one that is illustrated by the Japanese kanji character representing a state of mind reflected in the crimson red details of the two models, a metaphor for energy and vitality.
In both the on-line and off-line campaign, a product video clip appears highlighting the details of the new "Z Sugomi Editions" while at the same time the ideogram is strategically used to show how the design, knowledge and the passion for Kawasaki's aesthetic values is maintained.
"To embrace the Sugomi concept is not easy. It is necessary to understand the complexity of the Japanese culture that in a character holds multiple, very personal, state of minds. The dedicated creative team succeeded with this goal", says Roberto Beltramolli, Anicecommunication president. "We are proud to list among our clients this prestigious brand able to stimulate sane adrenaline not only in their clients' veins".